I recently purchased Suzanne Mattaboni's "eighties novel" Once in a Lifetime and kept it in my purse to keep me company in all the medical waiting rooms.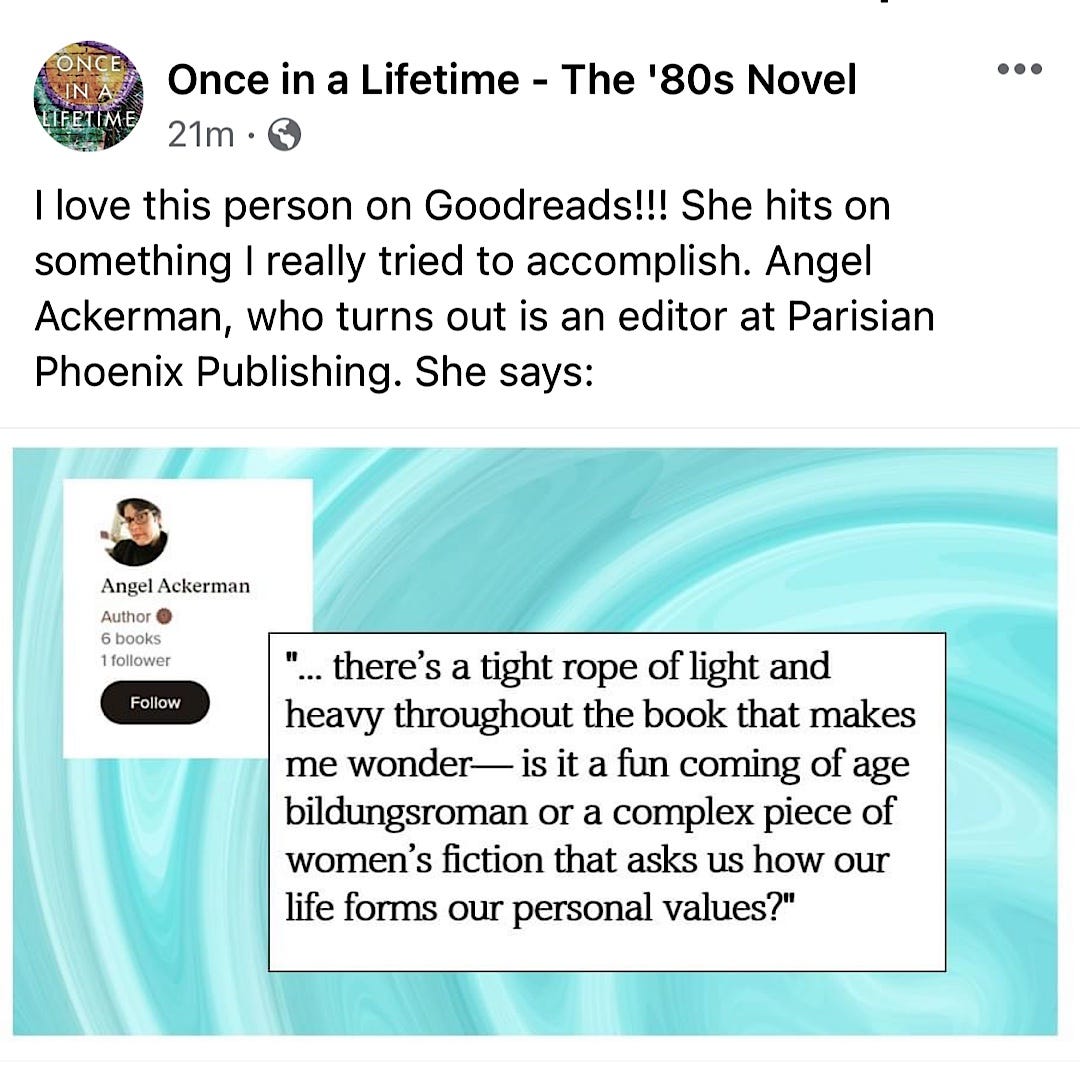 As in my habit, I reviewed the book on Goodreads and tagged the author however I could on social media— and she quoted me to others saying, "I love this person on Goodreads!" I really do mean it when I say Parisian Phoenix works to unite artists and writers and that we promote not only our books, but an environment of inclusion whether or not you are officially under our roof.
The special collaboration with Echo City Capers we have that will debut with the special hardcover second edition of Sometimes I Get… is also the soft kick-off of Parisian Phoenix Kittens, our children's book imprint. I'm hoping to see titles from Darrell Parry and Larry Sceurman soon.
And coming soon, probably summer, we will launch Parisian Phoenix Kink, our erotic line, with a nonfiction title by Ralph Greco about writing erotic fiction and his career in the industry.
As research, I recently read Susie Bright's How to Read/Write an Erotic Story, which, despite its age and its subject matter, holds up as a basic how-to-write for any genre. I know that sounds ridiculous, but her exercises, writing prompts and information would benefit anyone transitioning from hobby to professional writing. Trust me.
Our photographer, Joan Zachary, had given me the book and even once attended an in-person workshop with Ms. Bright. Speaking of photography and our illustrious, talented Joan— she has a photograph in the Lehigh Valley Photography Club's juried exhibit that opened Sunday at the Allentown Art Museum.
What we are reading:
Author Jess Rinker's substack: Disclosure— I went to high school with Jessica, and we have connected in the past decades a few times as Jess moved away from her role as a mother and into her life as… well… herself. Other moms will understand. Parents who fall into or decide to raise children early in life don't often have a chance to fully explore their own interests until later. Jess decided to earn her MFA in children's and YA lit and embarked on a career that spanned a children's books about the first female firefighter in New York City (Send a Girl) and YA books about a duo known as The Dare Sisters. But writing in the traditional publishing world is exhausting and Jess, like most, supplements her income by teacher other writers (who will then perpetuate the whole circle). Her husband is also a writer. The couple has had some brutally real real-life experiences, worthy of their own movie, and Jess reflects and writes with such poignancy even her pain has a surreal, hopeful beauty.
Diary of a Man called Jesus by Robin Reichert: This one comes from a GLVWG member and tackles the "lost years" of Jesus' life through her fictionalized account of what happened. The concept is the ultimate use of historical fiction to not only entertain, but also to explore what might have happened to inspire an entire religion. The book design is tight, and there are some factual errors about the actual religious history. But I wonder what the author will do with her set-up as the story progresses.
What we want to read: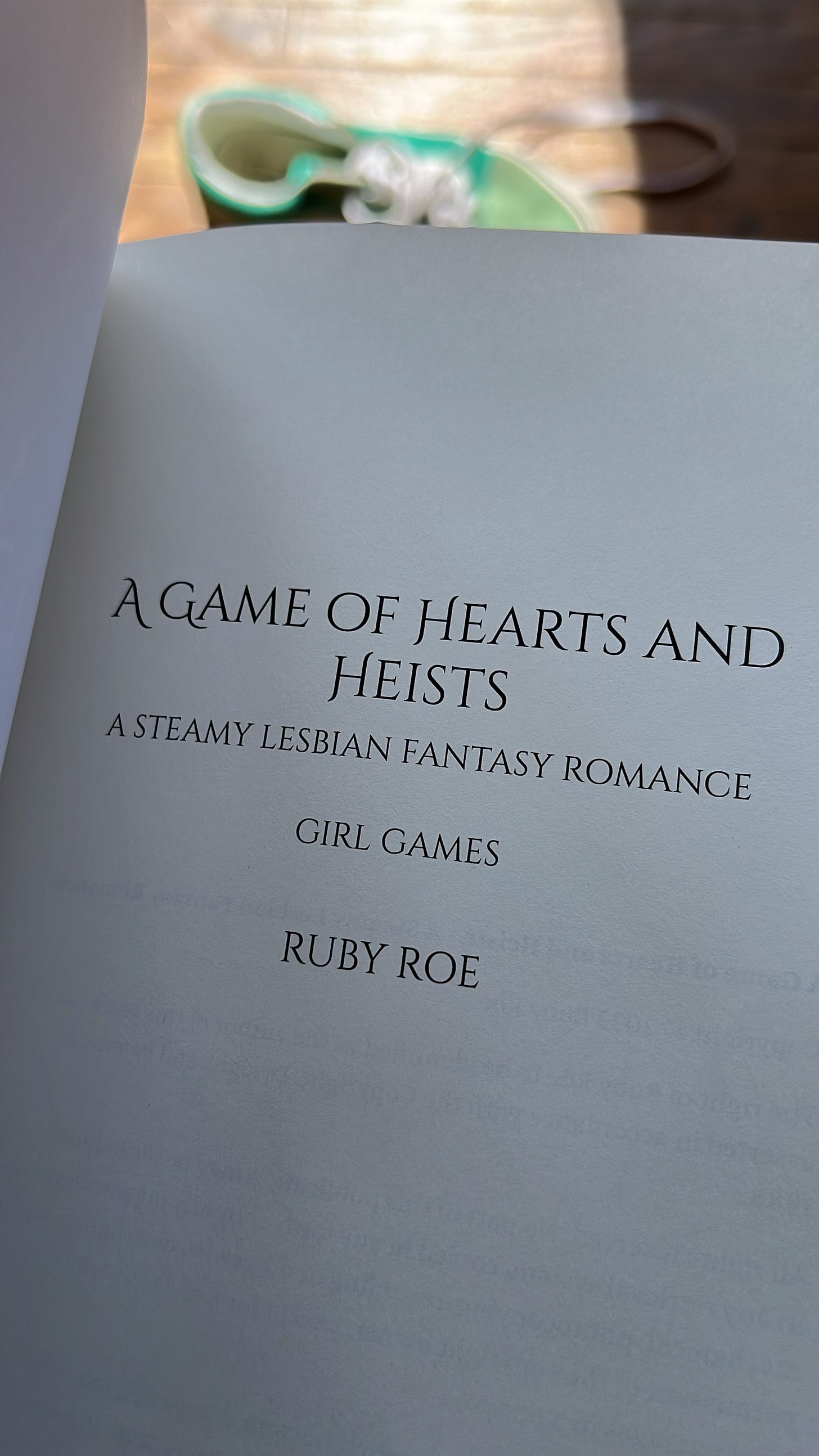 A Game of Hearts and Heists by Ruby Roe: Sacha Black is a very savvy self-published author who recently decided to not pursue her typical commercial writing and write the book she wanted to write. She did it with a secret pseudonym and would not reveal the book or her new identity until the book launch. And now she's sharing with podcast listeners and Patreon supporters the lessons she learned starting from scratch with the knowledge of an established author. To hear more about Sacha, check out The Rebel Author podcast.
Stolen Things by R(achael) H. Herron: Rachael Herron wrote the page-turning thriller Hush Little Baby that impressed me in every way possible. This is her earlier thriller and she uses some of her own experience as a police dispatcher.